16 Best Neighborhoods in Denver
Posted by inMotion Group Team on Monday, January 30, 2023 at 11:22:38 AM
By inMotion Group Team / January 30, 2023
Comment

Denver, Colorado is one of the most vibrant cities in the United States. With its gorgeous mountain views, thriving cultural scene, and delicious food and drink offerings, there's no shortage of reasons why people love living in this city. But with so many neighborhoods to choose from, it can be tough to know where to start your search for the perfect place to call home. That's why we've put together this guide to the 16 best neighborhoods in Denver. From the bustling River North Art District to the quiet, residential streets of Park Hill, we've got you covered. Whether you're looking for a vibrant nightlife, easy access to outdoor recreation, or a tight-knit community, you're sure to find the perfect neighborhood for you in this guide.
"16 Best Neighborhoods in Denver"
The River North Art District (RiNo)

Denver is a vibrant neighborhood that is known for its eclectic mix of art, culture, and urban living. With its mix of historic warehouses, new construction, and converted buildings, it has become one of the hottest neighborhoods in Denver. Here's a guide to help you navigate the pros and cons of living in RiNo, based on the experiences of local residents.
Pros:
Art Scene: RiNo is home to over 50 galleries, studios, and creative spaces that host exhibitions and events year-round. This vibrant art scene is one of the neighborhood's biggest draws and sets it apart from other areas in Denver.
Urban Living: RiNo has a bustling, urban feel that is perfect for people who enjoy city living. The neighborhood is packed with shops, restaurants, bars, and coffee shops that provide plenty of opportunities for socializing and entertainment.
Location: RiNo is conveniently located just north of downtown Denver and is close to major highways, public transportation, and the airport. It's also within walking distance of many of the city's best attractions, such as the Denver Art Museum and Coors Field.
Real Estate: RiNo has a mix of residential options, including lofts, apartments, and single-family homes. The neighborhood's unique character and growing popularity have driven up real estate values, making it a smart investment.
Cons:
Noise: With its bustling street life, RiNo can be noisy, especially at night. This can be a problem for residents who prefer a more peaceful environment.
Traffic: RiNo is located in an area of Denver that is seeing a lot of growth, which means that traffic can be heavy at times. This can make getting around the neighborhood a challenge, especially during rush hour.
Cost: The popularity of RiNo has driven up the cost of living in the neighborhood. Rent and real estate prices are higher here than in other parts of Denver.
City Park

One of Denver's most beloved and iconic neighborhoods. This large park-side community offers residents a tranquil, green escape from the city's busy streets, while still being close to all the action. Here's a guide to help you understand the pros and cons of living in City Park, based on the experiences of local residents.
Pros:
City Park: The neighborhood's namesake park is one of the city's largest and most popular green spaces. It's a great place for picnics, sports, and leisure activities, and provides a peaceful escape from the hustle and bustle of city life.
Location: City Park is located in central Denver and is close to downtown, the Denver Zoo, and the Museum of Nature & Science. The neighborhood is also well connected to public transportation and major highways, making it easy to get around.
Real Estate: City Park is home to a mix of architectural styles, including Victorian homes, bungalows, and new construction. The neighborhood's popularity has driven up real estate values, making it a smart investment.
Community: City Park is known for its tight-knit community and friendly neighbors. Residents here take pride in their neighborhood and are active in local events and initiatives.
Cons:
Traffic: City Park is located in a busy part of Denver, and traffic can be heavy at times. This can make getting around the neighborhood a challenge, especially during rush hour.
Cost: The popularity of City Park has driven up the cost of living in the neighborhood. Rent and real estate prices are higher here than in other parts of Denver.
Noise: The busy streets and nearby attractions can make City Park a noisy neighborhood, especially at night. This can be a problem for residents who prefer a more peaceful environment.
Washington Park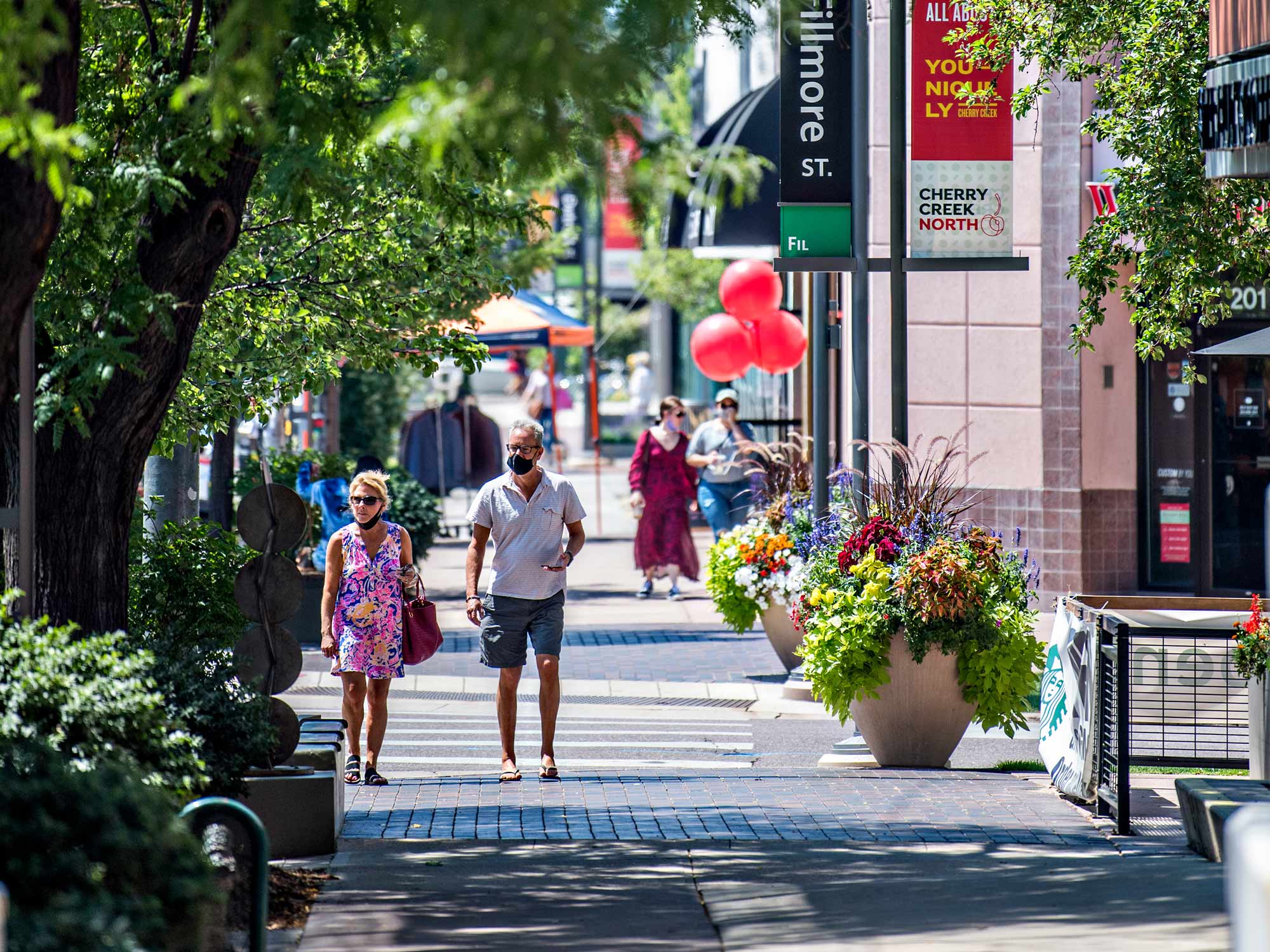 Arguably the best neighborhood in Denver for families, being safe and largely residential. Can't decide between living in the city of Denver or the Denver suburbs? This area might be a good compromise! Located in the southern half of the city, Washington Park is a relatively quiet residential neighborhood with lots of single family homes and townhomes on offer, a Whole Foods Market, and the spectacular coffee shop Wash Perk (popular with students at nearby Denver University).
As one of the safest neighborhoods in Denver, it is relatively quiet and peaceful, but close enough to bars and restaurants along the nearby stretches of South Broadway in Baker or South Pearl in Platt Park. The big attraction, of course, is the proximity to the excellent Washington Park, where you'll find miles of biking trails, volleyball nets, two lakes, tennis and basketball courts, and loads of green space.
Pros:
Gorgeous leafy streets
Proximity to Washington Park
Quiet, safe neighborhood
Cons:
Distance – getting most anywhere will require a car or bike
Not as many bars, restaurants, or shopping (though several Denver malls are nearby)
Capito Hill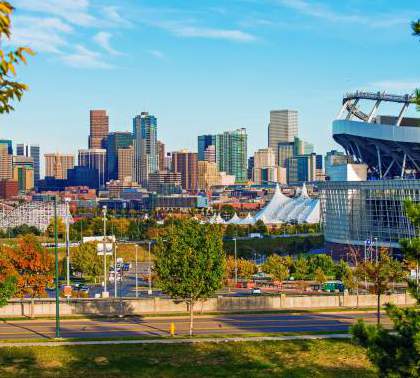 Affordable Victorian-era homes line the streets in Cap Hill, one of Denver's oldest neighborhoods. Capitol Hill is one of Denver's oldest neighborhoods, and a lot of the buildings here are late Victorian Era mansions that have since been converted to apartments, condos, or townhomes. The streets are very green, and it's a highly livable neighborhood that is quite literally in the center of Denver, Colorado.
Capitol Hill does have its drawbacks, especially when it comes to parking. If you're getting a place in Capitol Hill, try to find somewhere with reserved parking. Fighting for a spot on the street is something that everyone I know who lives on Capitol Hill complains about constantly.
Pros:
Generally the most affordable rent among central Denver neighborhoods
Houses offer gorgeous architecture, with great curb appeal
Loads of restaurants, coffee shops, bars, and shops
Many nearby attractions, including the iconic Colorado Capitol building and the Denver Art Museum
Cons:
Many buildings are 100+ years old, are carry the problems that comes with
The area, especially around Colfax, tends to have higher crime rates
As in much of the city, there is a high number of individuals affected by housing insecurity
Parking on street is a nightmare
Lower Downtown ("LoDo")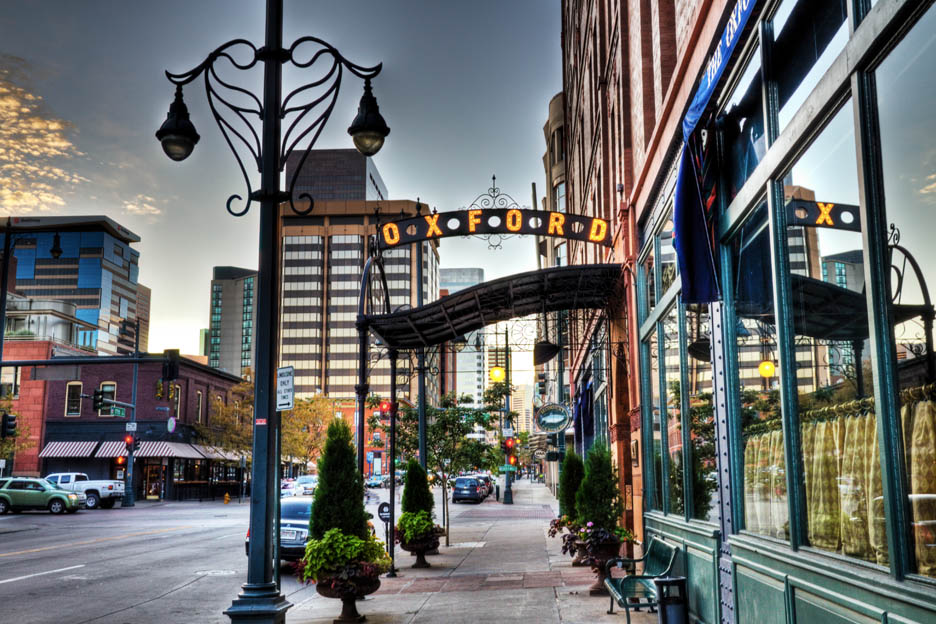 The best neighborhood in Denver for a big city, high-rise style living. Lower Downtown, or LoDo, was the first Denver neighborhood I lived in after law school. I was coming off a few years living on the East Coast and chose it because this is definitely the most big-city-style neighborhood in Denver. This historic neighborhood puts you right in the middle of the city's action.
It features many of Denver Colorado's main attractions, including Union Station, Larimer Square, Coors Field, and the fantastic urban micro district Dairy Block. In fact, about half of the top entries on my list of things to do in Denver are in or near LoDo. You'll find plenty of modern apartment and condo buildings. But in terms of the cost of living, be prepared to pay a premium for this prime location near Union Station!
Pros:
Location, location, location!
The most vibrant part of the city on any given night
Many high rise apartments offer amazing views of the Rocky Mountains
Cons:
Rent or housing prices are relatively expensive
You won't find proper houses here, it's entirely condos and apartments
Golden Triangle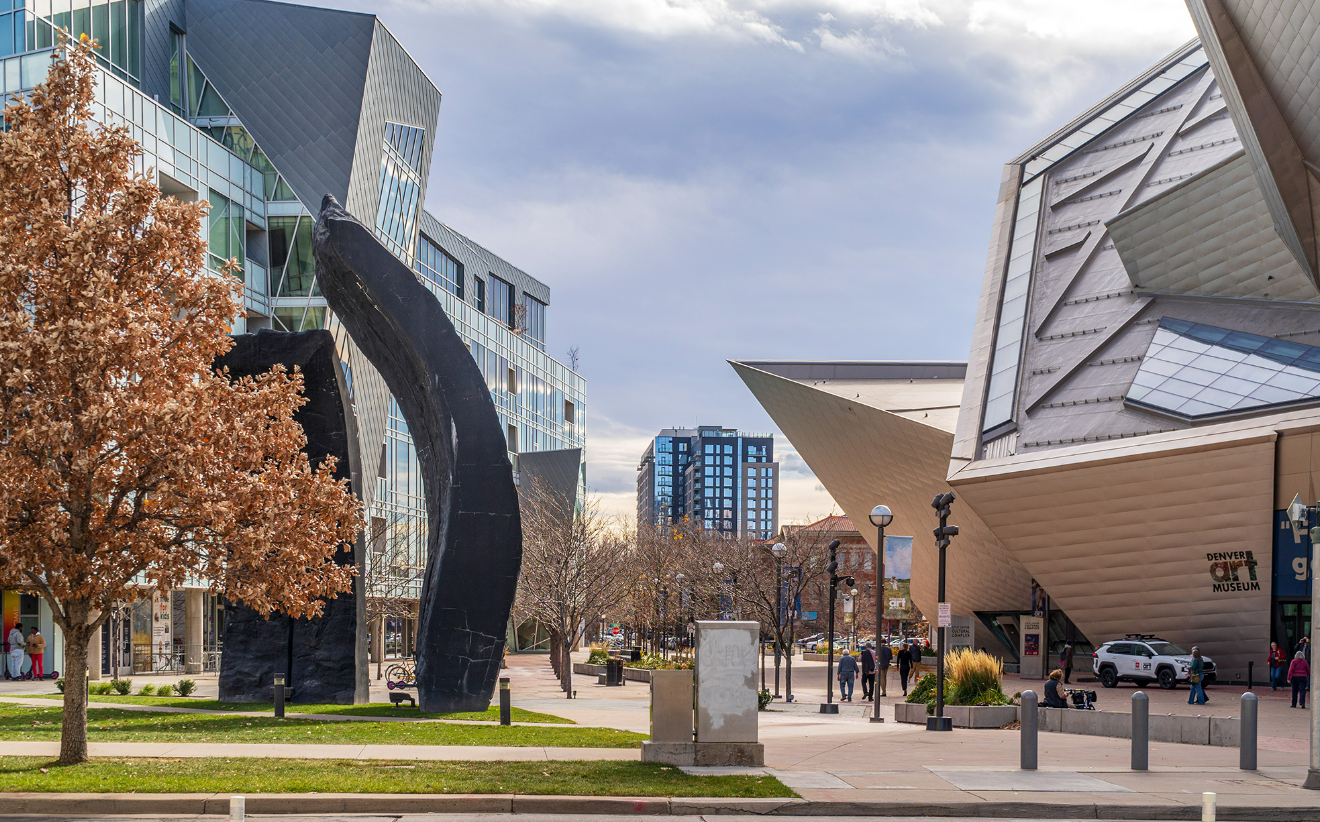 The best place to live in Denver for a central location and relatively affordable rent. Golden Triangle is the Denver creative district bounded by Colfax Avenue to the north, Broadway to the east, and Speer Boulevard along the west. It's a small area but is home to some of Denver's best museums and cultural institutions like the Kirkland Museum of Fine Art, the Denver Public Library, and the Denver Mint.
In Golden Triangle, you're also steps from the golden dome at the Colorado Capitol Building and Civic Center Park. You'll find a mix of large condo buildings along Speer Boulevard, eclectic townhomes, commercial spaces, and hotels. Be sure to check out the bar at The Art Hotel Denver, one of my picks for the best downtown hotels in Denver, Colorado.
Pros:
Lots of museums and attractions
Central location within walking distance to downtown, but slightly more affordable rent
Cons:
Still not a ton of restaurants or bars (though that's changing)
Can feel a little empty at night
Lower Highland ("LoHi")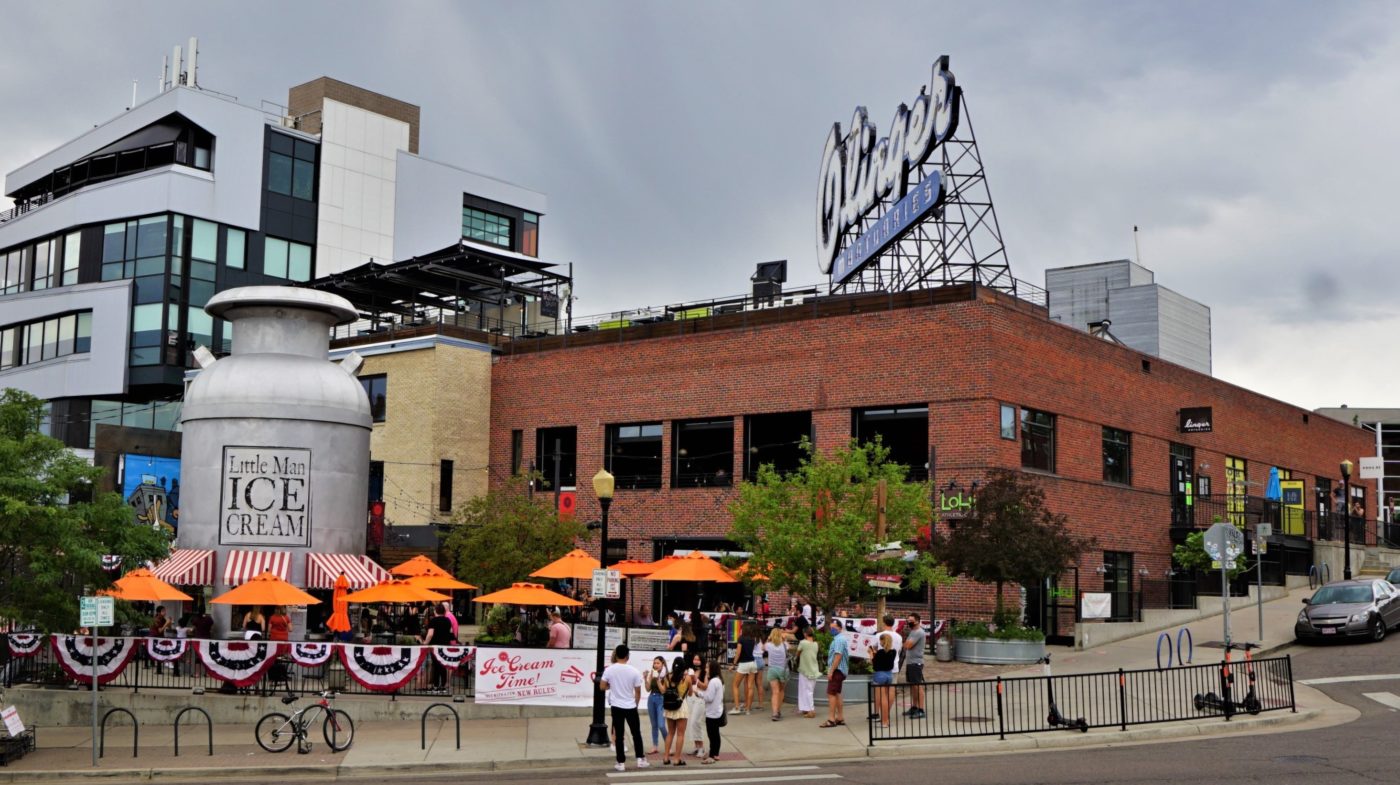 One of the best neighborhoods in Denver for anyone who can afford it! Lower Highland (or "LoHi") technically isn't an official neighborhood, though it's called one by Denver Colorado locals, so you may find some confusion around terms here. Whatever you call it, this is undoubtedly one of the most expensive Denver neighborhoods – and for good reason.
LoHi is situated just across the I-95 footbridge from LoDo but offers a more traditional neighborhood feel with lots of single family units, green and leafy streets, and some of the best restaurants and dining options in Denver. Don't miss the rooftop at Linger or ice cream at Little Man!
Pros:
Beautiful streets and homes
Lively, but still quiet at night
Lots of high end restaurants
Walkable to downtown Denver
Views of Denver's skyline
Cons:
Price – average rent or home prices are very high!
Uptown ("North Capitol Hill")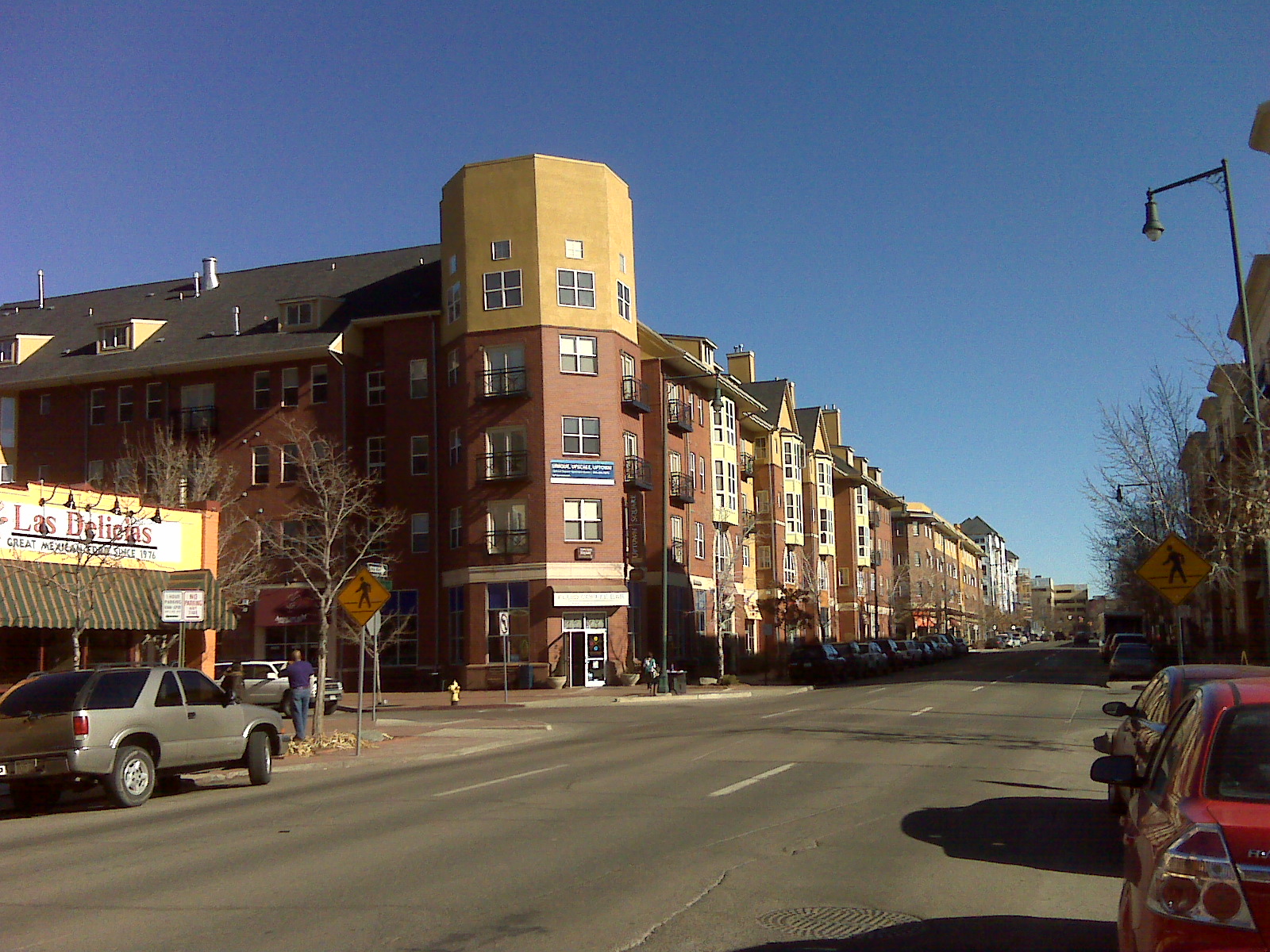 Walking distance to downtown, Uptown is one of the best places to live in Denver for young adults. Technically known as North Capitol Hill, Uptown is one of my personal favorite neighborhoods in Denver. I'm a little biased since I used to own a home there. I recently sold it to focus on my life of world travel, but it's still a great area to live in Denver.
When I lived in Uptown, I was working as a corporate lawyer downtown, and I absolutely loved being able to walk to work. I really think Uptown is the perfect Denver neighborhood, especially for young professionals or anyone working downtown. It's near to much of the best stuff to do in Denver, and offers many great restaurants and bars, all while still maintaining a good community feel. The tree-lined streets are super green, and the sidewalks are wide and walkable!
Pros:
Great location in the center of the city
Highly walkable
Solid dining and bar scene, but still quiet at night
Cost of living is reasonable for a downtown neighborhood
Cons:
Public transit connections are not the best (the nearest light rail is 15 minute walk)
Berkeley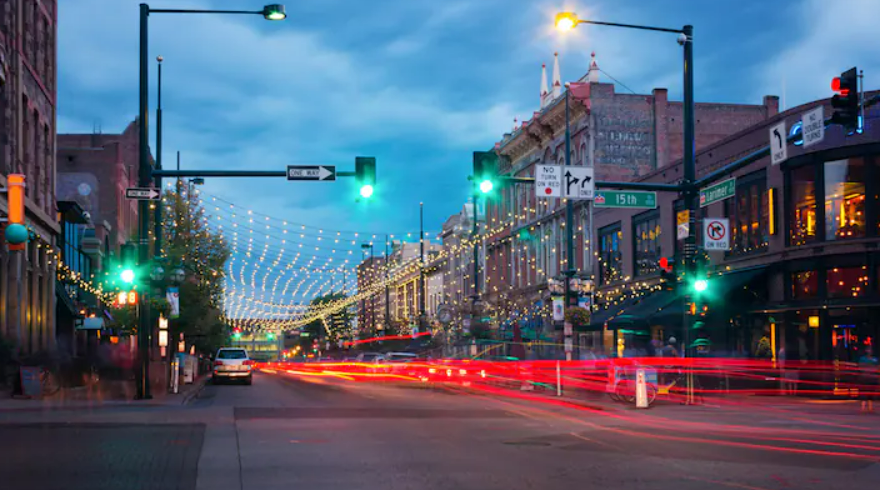 Restaurants, galleries, and spacious parks make this one of the best neighborhoods for families and outdoor lovers. Berkeley is a great Highland neighborhood in Denver for finding traditional single family homes along quiet, safe, and relatively walkable streets. It offers a vibrant hub of high end dining and boutiques along the iconic Tennyson Street.
Berkeley is also home to Berkeley Lake Park and Rocky Mountain Lake Park, which makes it a great place to live in Denver if you enjoy the outdoors or have a dog. Plus, it's close to I-70, giving you easy access to day trips from Denver to the Rocky Mountains on weekends.
Pros:
Spacious homes, many with yards
Lots of restaurants, coffee shops, art galleries, and culture
Great parks with walking trails, playgrounds, and outdoor space
Cons:
A little far from downtown
Sunnyside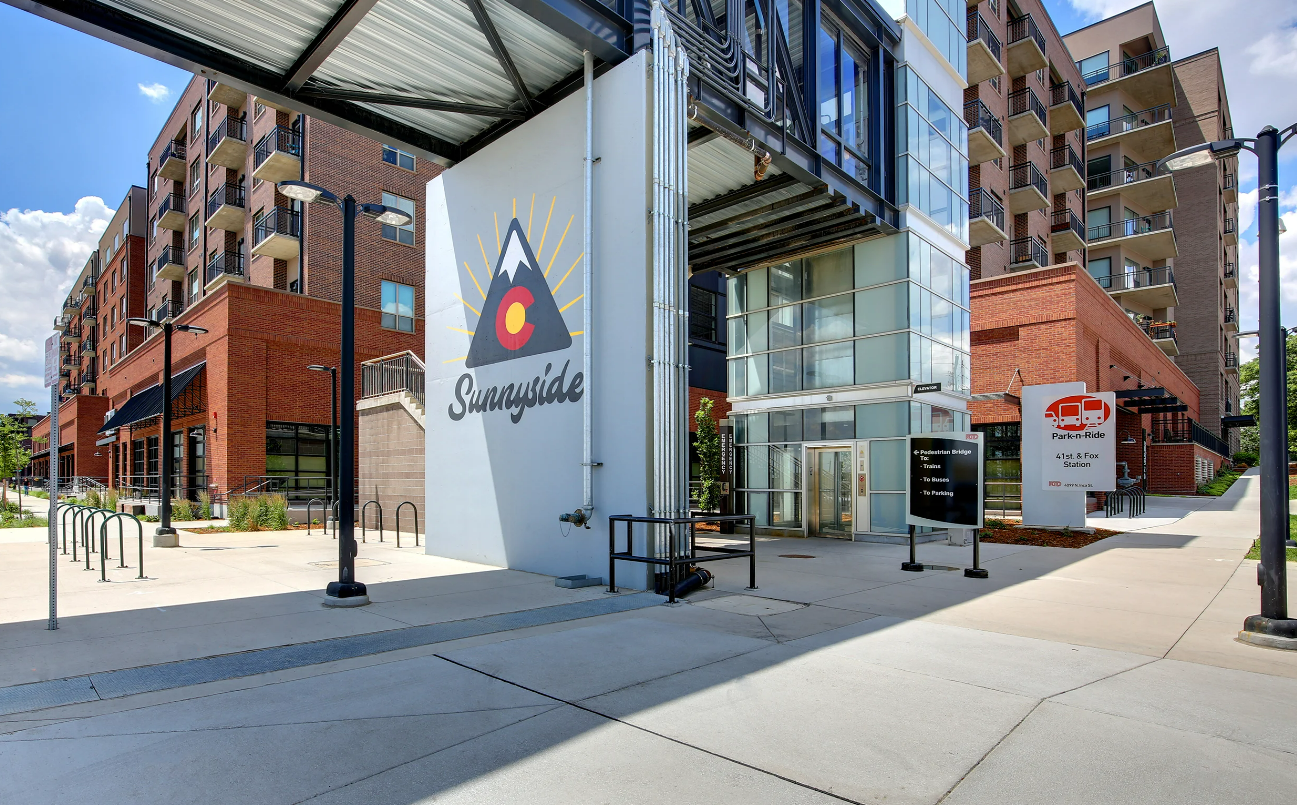 This Highland neighborhood offers a balance of space, location, and cost of living. Rounding out the Highland neighborhoods featured on this list, Sunnyside is a great neighborhood where several of my friends live. There are lots of spacious single family homes, and many offer expansive yards and friendly front porches. The streets are wide, clean, and covered in greenery. Along 38th Avenue you'll a few solid restaurants and local businesses. Plus, you're just over the bridge from RiNo, LoDo, and all that downtown offers.
Pros:
Lots of gorgeous homes with yards on offers
Cost of living is less expensive than LoHi or Berkeley, but still close to it all
Cons:
Not quite as walkable as other central neighborhoods
Sloan's Lake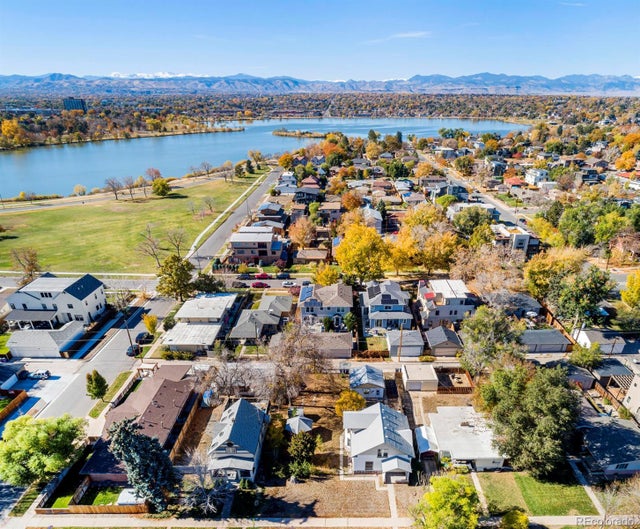 Where to live in Denver if you're looking for nearby amenities including ample outdoor space. Sloan's Lake is a large Denver lake offering gorgeous views of downtown Denver to the east and the Rocky Mountains to the west.
Pros:
Great running and biking trails in Sloan's Lake Park
Close to downtown Denver
Cons:
Cost of living – this is a desirable Denver area
Baker ("South Broadway")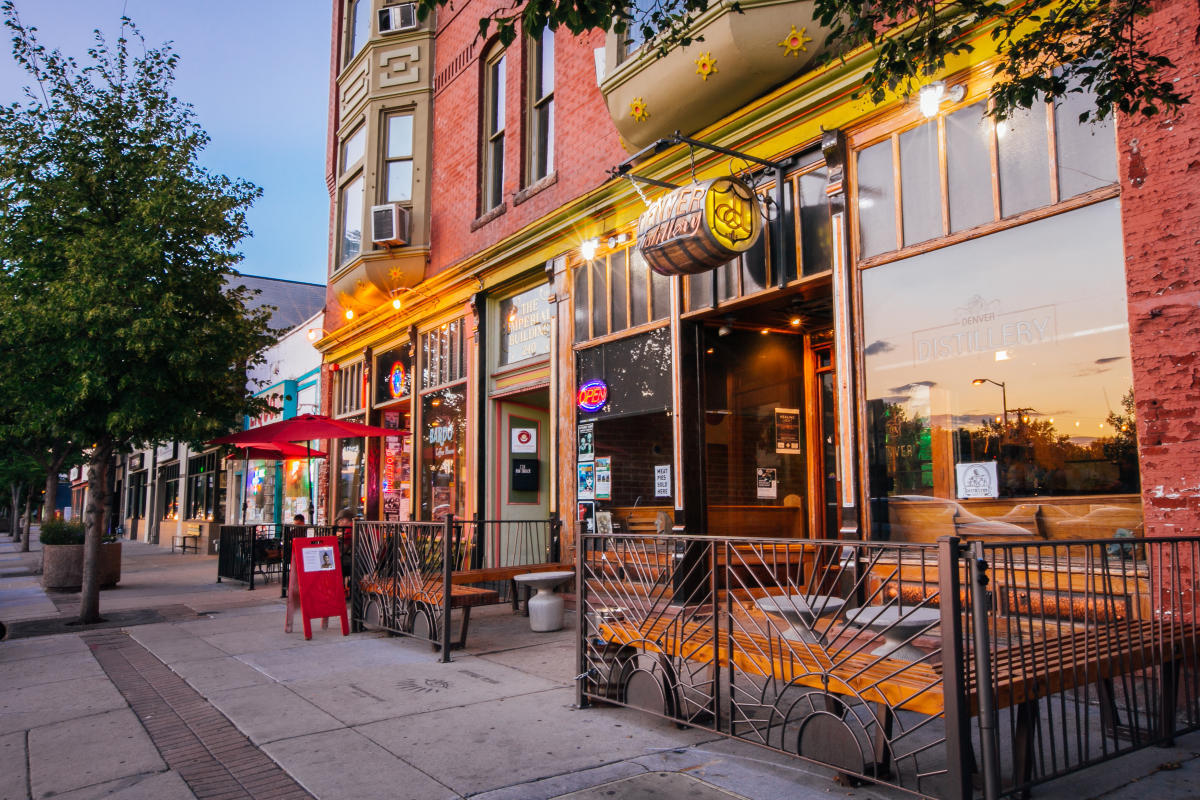 Pros:
South Broadway offers lots to do, but it's still quiet
Light rail station
Cons:
Housing can be expensive considering the lack of space
Cherry Creek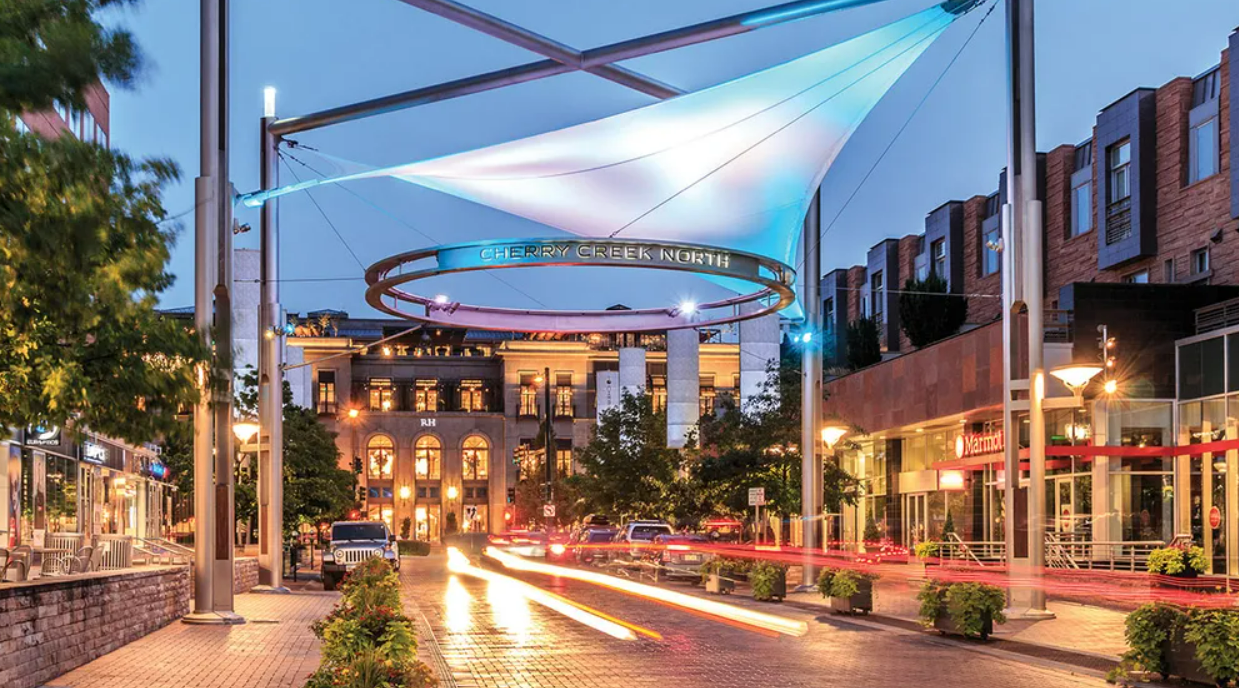 Luxurious Denver living with high-end homes, fancy shopping boutiques, and highly rated public schools. Cherry Creek is definitely one of the more unique neighborhoods in Denver. It's home to some of the most expensive homes in town, fancy shopping boutiques, the large Cherry Creek shopping center, and some of Denver's higher rated public schools. It is very expensive to live and far from everything, but the community who lives there absolutely loves it.
Pros:
High end and luxury housing options
The Cherry Creek shopping area is very walkable, with lots of boutiques, shops, restaurants, etc
Cons:
Location – a car is mandatory
Price – get ready to pony up to live here!
Central Park ("Stapleton")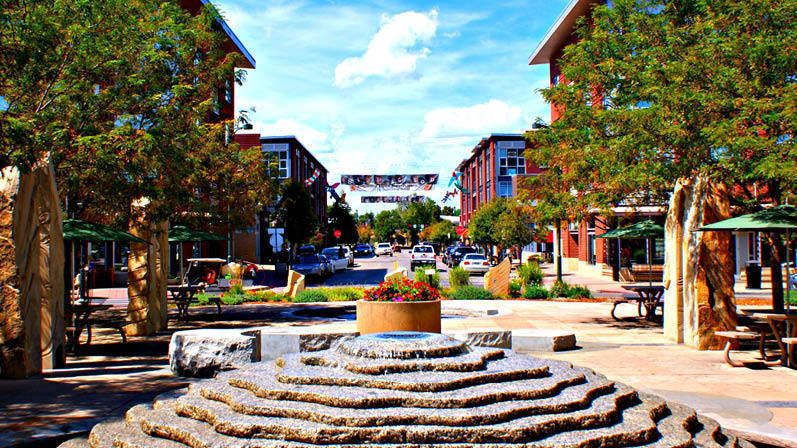 Great for families, it's one of the best places to live near Denver for a suburban feel. Central Park, formerly known as Stapleton, is one of the more "suburban" neighborhoods in town. It's not my thing, but my friends who live there have very different opinions. They love the large houses, suburban style living, and plentiful outdoor space. There's also a decent smattering of shopping, restaurants, etc. Plus, you're not that far from the exquisite Stanley Marketplace.
Pros:
Safe, with well rated schools
Large homes with lots of space to spread out
Easy access to parks and green space
Cons:
Location – you'll need a car because you're far from the city center
Curtis Park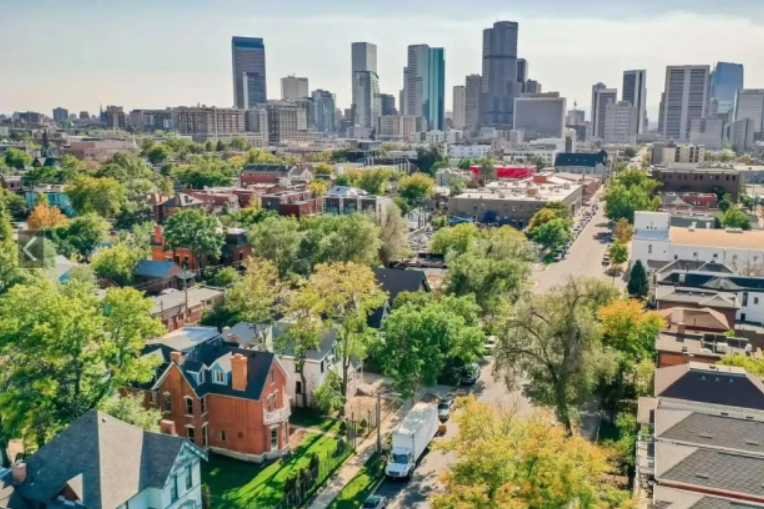 Denver's oldest neighborhood with a long-running history of celebrating jazz culture. Curtis Park makes up a large part of the historic Denver Five Points neighborhood. Curtis Park is also officially the oldest neighborhood in Denver. Along with the adjoining Whittier neighborhood, the area became synonymous with jazz, at one point being known as the "Harlem of the West." To this day it plays host to the excellent Five Points Jazz Festival.
Pros:
Central location close to RiNo and downtown Denver
Great light rail connections
Cons:
Rising real estate prices and gentrification may burden local residents and small businesses
Park Hill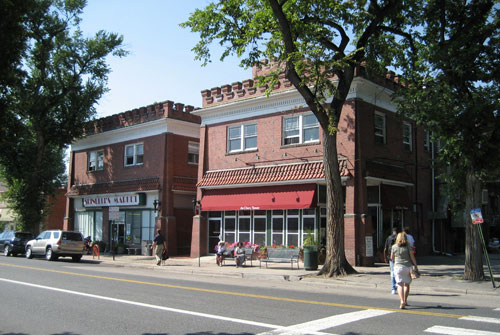 With suburban-style living and highly-rated schools, this is one of the best neighborhoods for families. Park Hill is one of Denver's oldest neighborhoods, and also one of its largest. Expanding over the area just west of City Park, from I-70 down to Colfax, Park Hill offers a lot of single family homes along tree lined streets, giving it an almost suburban feel. Many of the schools also score high on the Colorado Department of Education's District and School Performance Framework results.
Pros:
Large homes with yards and space
Several well rated school districts
Tree lined streets
Cons:
A bit far from the city center